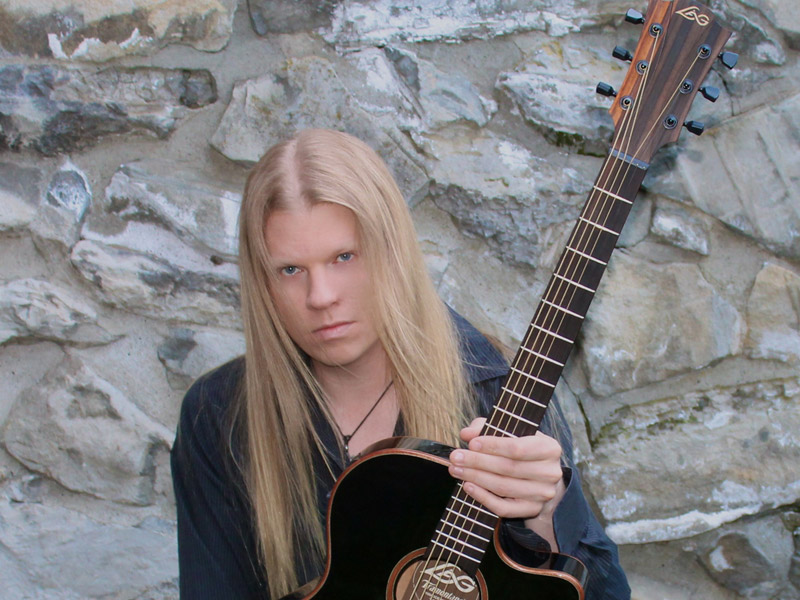 Jeff LOOMIS
Resume
Birthday : September 14
Nationality : American
City : Wisconsin
Band : Nevermore
Genres : Metal
Instruments : Guitar, bass, keyboard, programming, drums, vocals
Highlights
Jeff Loomis was in search of acoustic guitars - folk and nylon - for composing and recording his new solo album, Nevermore, when he heard of LÂG Guitars through friends who'd already made the acquaintance of Michel Lâg-Chavarria in the United States.

A couple of e-mails and phone calls sufficed to give Michel an exact idea of what Jeff needed and their first encounter in Toulouse at one of Nevermore's final concerts on their Symphony X tour proved fruitful: the two guitars built specially for Jeff by the customization team from Bédarieux were scooped up immediately by this incredible guitarist; not only that, they also won over the rest of the musicians at the festival that evening, including no less than Michael Romeo!!!

The first guitar is a Tramontane Folk T100 ASCE-BLK, the famous LÂG Black Beauty Slim Body which is unanimously acclaimed by guitarists of hard, metal and many other styles beside, with low action to enable Jeff to switch seamlessly from electric to acoustic without hampering his virtuoso playing…The Fishman Prefix Pro USA electronics provide very natural sound quality and superb performance not only in all studio situations, which was the primary objective, but on stage too.

The second guitar is another slim body Tramontane, also ultra-comfortable and highly playable, but this time a TN300A14ASCE nylon, strongly reminiscent of a folk or electric guitar with its fine-profiled, wide neck measuring 46mm at the nut. A nylon guitar with unique comfort and playability...! It took no time at all for Jeff to familiarize himself with both guitars and he's now recording his new solo album with his two new beauties…


JEFF LOOMIS' complex shredding has been a central part of the progressive but powerful and thrashy edge often attributed to Nevermore's trademark sound since the band's formation in 1992. As the band's lone permanent guitarist, he's been responsible for some of the most awe-inspiring riffs modern metal has ever heard. Taking the classic techniques he learned from listening to legends like Jason Becker and Yngwie Malmsteen as a teen and applying his own ingenuity, Loomis has carved his own niche and created an instantly recognizable style. As a result of his invaluable contributions to Nevermore's success, fans have been calling for a JEFF LOOMIS solo album for years. With most in the band taking a rare and much-deserved break, Loomis finally had the opportunity to hit the studio himself and the outcome is nothing short of remarkable.

Already a guitar prodigy in his mid-teens, Loomis was making a name for himself in Wisconsin, where he won a Battle of the Bands contest with his first group, Fear-Tech, before he got a call from a friend in Los Angeles encouraging him to audition for Megadeth. While he didn't get the spot (he was only 16 years old, after all), he did capture the attention of Sanctuary, a band whose debut release was produced by none other than Megadeth's Dave Mustaine. Just a year after he joined the band the group imploded, leaving Sanctuary divided in two with one-half being the line-up with which Loomis would continue forth to form Nevermore. Since then he's been busy decorating songs like ''The Seven Tongues of God'' and ''Born'' with scorching solo after solo and touring the world with one of heavy music's most storied and celebrated acts, and while his experiences with Nevermore have certainly been rewarding, and he looks forward to continuing that legacy, he is equally excited about the opportunity to unearth riffs he's been developing but not had the appropriate avenue for until now.

Robert Lang Studios played host to Loomis' first solo, all-instrumental venture earlier this year with producer Neil Kernon and drummer Mark Arrington joining the fray. Arrington had been with Nevermore in 1993-94 to play on half of the songs that ended up on the band's self-titled debut, and Kernon recorded the first three Nevermore albums so while there was a sense of familiarity the reunion was refreshing and this spirit carried over into the songs themselves. Also contributing to the album are Ron Jarzombek (Watchtower), who splits solos with Loomis on ''Jato Unit'', Pat O'Brien from Cannibal Corpse on ''Rage Against Disaster'', Jazz solo musician Michael Manring and Kernon himself playing a fretless guitar solo on ''Cashmere Shiv''. No matter how long fans have been waiting for this record, rest assured that the first release under the JEFF LOOMIS name will not disappoint.