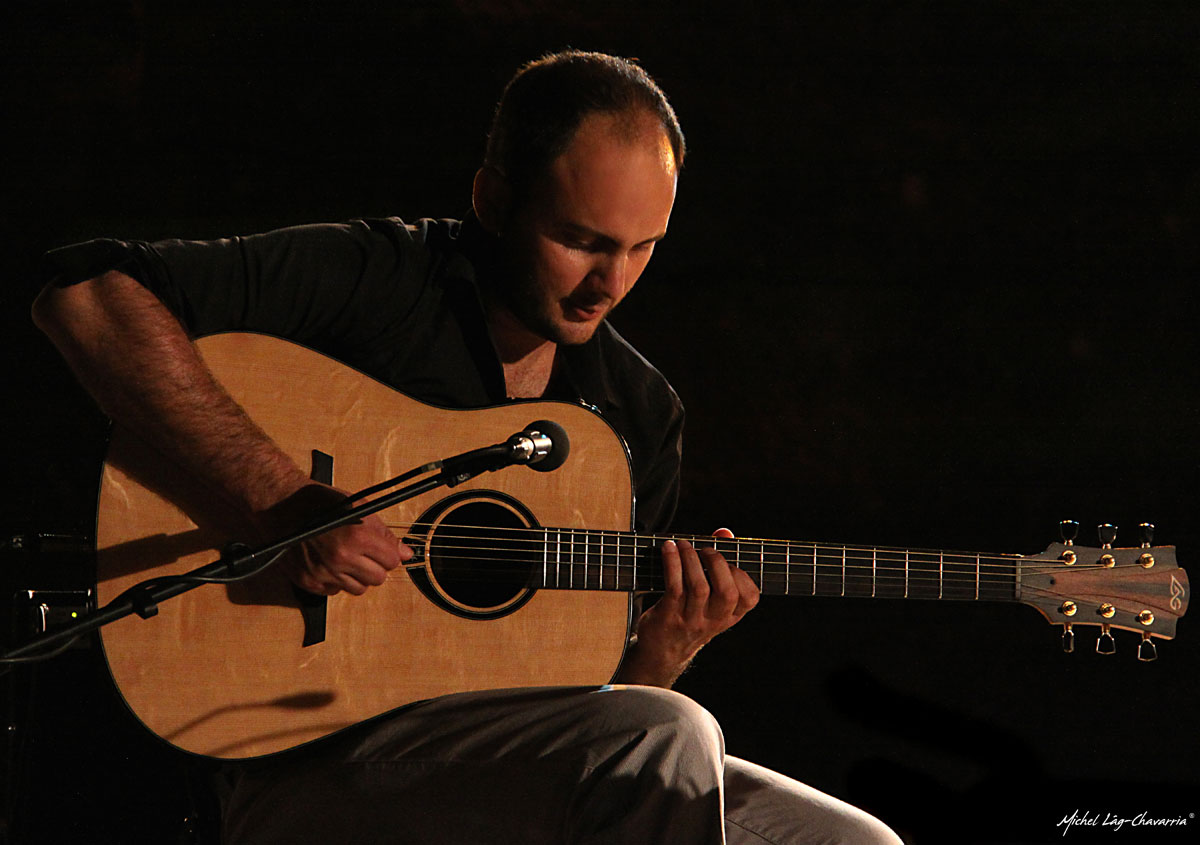 Kevin SEDDIKI
Resume
Birthday : 1981
Nationality : French
Band : Oneira
Instruments : Guitar, percussions
Highlights
Kevin Seddiki was always interested in improvisation and very different musical styles. His impressive skills, striking versatility, and curiosity led him to various collaborations with renowned masters from different musical areas ranging from classical to jazz including AL Di Meola, Dino Saluzzi, Regis Gizavo, Bijan Chemirani, Ensemble Ibn Arabi, Olivier Ker Ourio, and Urna Chahar Tugchi.

In 2009, he won the prestigious European Guitar Award in Germany. Since 2010, he's been touring with the Al Di Meola band World Sinfonia, who recently released the new album Pursuit of Radical Rhapsody. Kevin keeps himself rather busy, as he is also part of the band Oneira. Additionally, Kevin will release the first album under his own name in September 2011, for the German label Wildner Records.
Kevin has performed at some very high profile gigs and festivals such as The Nykobling Jazz Festival in Denmark, Tango and More in Lecce, Italy, The Mulhouse International Baroque Music Festival, Palais Chaillot in Paris, Eremitage in Austria, EthnoJazz in Greece and Festival des Suds in Arles.
However, even with such an impressive resume, he still remains humble stating ''I'm not a real classical guitarist or a real jazz man; I just like finding a way to say something in various contexts.'' Recently, Lâg Guitars had a chance to talk with Kevin. Here's what he had to say:

Lâg Guitars: When did you begin your journey as an artist/musician?
Kevin Seddiki: I started to play guitar when I was 8. I was born in a small town called Clermont Ferrand, not far from Lyon. My father is a saxophone player and he listened to a lot of different musical styles. So early on, I was interested in some classical, jazz, and world music. I especially remember a tape that I had made, it was kind of a ''best of'', featuring Mozart, Stevie Wonder, and some of the Aranjuez Concerto! So I entered a school offering music classes in their conservatory two afternoons a week, where I studied classical guitar and theory. When I was a teenager, I wanted to play rock music and at first, I really couldn't play chords. I only knew the pieces that I had learned. I had a really hard time listening to bands such as Nirvana or Sonic Youth and trying to transcribe their music. I had a very hard time in the conservatory with theory, and I left the school for a while. Then I joined a young local band, quite famous in town, but they needed a bass player... so I started playing the electric bass. This experience was very complementary to me. I learned a lot about rhythm, playing concerts and recording in the studio. Later on, I decided to go back to the classical guitar, and it was funny because my knowledge of theory and ear training was really 100 times better, though I never had the feeling that I had practiced it. So later on, there were some people that I jammed with that influenced a lot of my musical choices, and my musical way; people like Dino Saluzzi - a great bandoneon player, Pablo Marquez - my last guitar teacher, and also the Chemirani family - great zarb players, as that became my second instrument.
Lâg: You have a very versatile style of playing; do you have any tips or recommendations for an aspiring guitar player?
KS: I think it has a lot to do with curiosity, and the desire to share music with people, wherever they come from. This made me feel that I needed to become familiar with things like rhythms and sounds, so I can interplay. That's how I started to look for different sounds, alternate tunings, or percussive techniques on the guitar. About the guitar playing - I come from a classical guitar school, but I use techniques from bass, percussion instruments, flamenco and South American rhythms. For five years, I've also been playing an Iranian drum called the zarb, which really feeds and developed my sense of rhythm. So it's a strange personal mix (laughs.)
The important thing in my point of view is to work slowly, to avoid it becoming mechanical. The goal should be to understand music in general, which is always a work in progress. I feel that is a better approach than focusing too heavily on playing the instrument, or following a certain concept of technique; playing loud or fast for example, or trying to play the hardest licks during solos rather than something you feel. It means ''to hear what you play'', I think. I'd recommend to always work slowly at first, and to take the time to really hear everything. A great thing to do sometimes is to sing what you're playing. Another thing I find really useful and interesting is the Indian Konnakol. It's the art of singing rhythms with syllables, like: "TA - KA - DI - MI" - it's like trying to say 1-2-3 very fast. This works in any language, although German is really rough. Try it and see where your limit is. Now with a little training, try with ''TA - KI - TA''; and you'll see.
I realized that by working in this way, once you can spell something out and you really "hear it inside," it takes you much less time to get it down on the guitar.
Lâg: You will be releasing the album Kevin Seddiki soon, right? Please tell us about this recording.
KS: This recording was part of a 1st Prize that I had won in a guitar competition called "European Guitar Awards" in Dresden, in 2009. It was supposed to be more of a solo guitar album, but my producer Klaus Wildner really trusted me, and let me invite other musicians. It's mostly compositions, and I was lucky to have great musicians and friends as guests... Bijan Chemirani (percussion,) Maria Simoglou (voice,) Olivier Ker Ourio; (harmonica,) Danielle di Bonaventura (bandoneon,) and Paolo Pandolfo (viola de gamba.) The recording was done in Strasbourg, and it went very well. I was so happy to have those people around, and they brought wonderful colors and energy to the music. Some of the music was written with improvised spots, and some other things came in the moment in the studio. I'll mix it in June and release it this autumn, and then I'll play this music with a trio (percussion and bandoneon or accordion.)
Lâg: Do you have any other upcoming projects?
KS: Yes; actually more and more all the time! With Bijan Chemirani, I play in the project Oneira. We arrange and compose music from a Mediterranean background. We just started recording our second album. I also have a trio project with percussion player Glen Velez and singer Lori Cotler from New York... that should start playing out this year. Also, I recently started playing with jazz double bass player Chris Jennings from Canada. We have a duet with a great tango singer named Sandra Rumolino, and we will also play with Lucilla Galleazi, from Italy, in October. I have some solo concerts coming up, so I will work on a setup including some effects, loops, guitars, and percussion.
Lâg: You've been touring with Al Di Meola for a while now... how did you two get together?
KS: I met Al when I was on a trip in Tunisia, with just my bag and my guitar. It was my first big adventure. I was 17, and I arrived in Tabarka for the jazz festival where I first saw him playing.
I really liked this concert; it was mainly an acoustic set, with piano, guitar and percussion. They announced a master class with him next day, so I went down there... but they cancelled it at the last minute. I was really sad about that, so I started to leave. I really wanted to meet him and ask him for a lesson, so I asked for his room number at the reception desk and to my surprise - they just gave me his room info. I went to his room but he wasn't there. I waited for a while... there was a little table and chair. I stayed there and practiced for a few hours until he returned. He listened to me play and we spent some time together, played guitar, etc. After that, I regularly met with him when he played in Europe. Occasionally, he would ask me to jump in the band as a last-minute replacement. It was never easy, it's a lot of work last minute. Finally in 2009, he asked me to go rehearse in Munich before a tour, and since then, I've been part of the band World Sinfonia.
Lâg: Are there any recent performances or recording sessions that were special to you? Why?
KS: All of the recording sessions were special to me. Maybe this is because I haven't done so many yet! My album was the most emotional for me, because I was really surrounded by people that I like, and they were all so kind to me and dedicated to the project. It was like a dream. I also remember the sessions for Al Di Meola's last release in winter 2009. It was my first time in the USA, and I was flying to New York to record in Avatar Studio!
That was also a dream and a great experience.
Lâg: What drew you to Lâg guitars? What model do you play?
KS: I met Michel Lâg at a big music festival in France last summer. We were playing with Oneira, and they had a stand close to the dining room. I tried some guitars, but I especially remember a baritone that I loved. The moment was very nice, and we decided to keep in touch and meet again. Then I tried a few of the guitars, and most recently, I got a Custom Bédarieux Tramontane. The tone is really great and perfect for the band because we play quite loud on stage. It's hard to get a nice instrument, with strong attack, and no feedback problems at the same time. Acoustically, it's very rich and well balanced.
Lâg: Thanks, Kevin! Have fun on tour.
For more information about Kevin, visit http://www.reverbnation.com/kevinseddiki and http://www.facebook.com/pages/Kevin-Seddiki/152959358075988
Multimedia