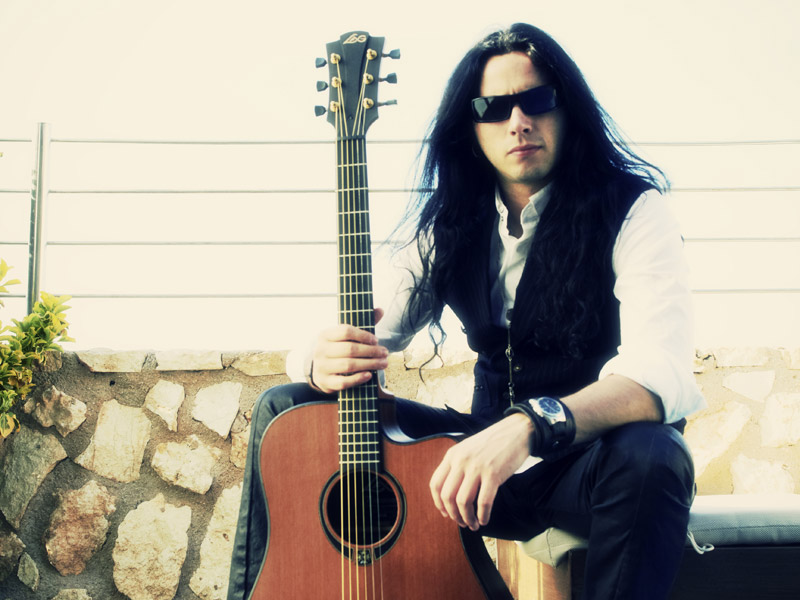 Gus G.
Resume
Birthday : September 12
Nationality : Greek
City : Thessaloniki
Band : Ozzy Osbourne, Firewind
Genres : Metal
Instruments : Guitar
Highlights
The meeting between Gus G. and LÂG guitars was done thanks to our French guitar-hero and 7-string-virtuoso, Stéphan Forté of Adagio band... Technical and spontaneous discussions between the two incredible guitarists at a Metal Festival led Gus to look very seriously at LÂG acoustic guitars, in fact acoustic-electric because the need was very urgent and important for concerts and studio sessions of Firewind as well as Ozzy Osbourne.

Gus and Michel LÂG then agreed for 2 Custom guitars, a 12-string and a 6-string French made Tramontane models, both primarily designed for two targets, first for a hyper easy playing comfort and very fast action, as well as very present bass frequencies level for a powerful way of playing, and finally with a reliable electronic, natural and versatile, to match with the global stage concept of the band.

After a few cordial and positive exchanges, the guitars concept was then focused on a beautifully figured Madagascar Rosewood body for its dynamic and the perfect balance of its global frequencies spectrum. The very old Sitka Spruce top was also selected for its roundness and precision, clarity and sustain. A marquetry of Ebony enhances natural and refuned contrast at the headstock, fingerboard and rosette. Electro-acoustic sound is provided by a superb Fishman Prefix Premium Blend US made EQ, with its mix of two different sensors, a piezo in the bridge for accuracy and attack, and an adjustable internal microphone which perfectly knows how to recreate the natural sound and breath of the body top.

Two months after the first contact between Gus and Michel, through the work of all the talented luthiers of LÂG Bédarieux manufacture and thanks to Gerard Garnier and his great Algam team, the famous Gus G. Custom Bédarieux Tramontanes were born. And Gus is the first happy!

Gus G. left Greece when he was 18 years old for the Berklee College of Music in Boston. He left school soon after a few weeks to try and make his name among the American Metal scene. While at Berklee, he met guitarist Joe Stump he cites as one of his main influences. In 2005, he replaced the guitarist of Arch Enemy on their Ozzfest dates in and contributes to their album Doomsday Machine. On August 21, 2009, Gus G. is chosen to be the new guitarist for Ozzy Osbourne and participate in the recording of his new album scheduled for 2010. Gus G. has made some appearances with the Japanese group Sigh, he also contributed to the album In Defiance of Existence Group Old Man's Child. His nickname Gus G. has two origins: the first is that Gus is a translation of the Greek-American name Kostas and G. is the nickname that his friends had given him.
Gus is also the guitarist of Firewind, which has been founded and still directedg since 1998 by our guitar-hero with the help of some friends in the United States.