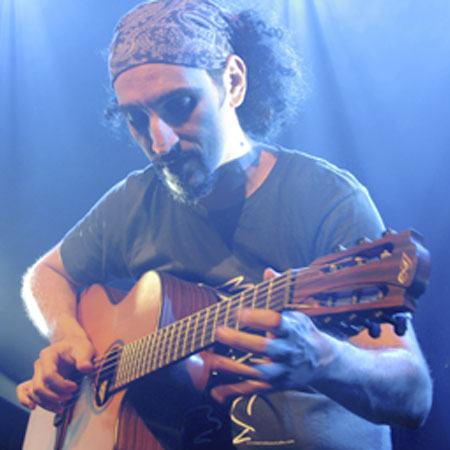 Yossi SASSI
Resume
Nationality : Israeli
Band : Orphaned Land
Genres : Oriental Metal
Instruments : Lead electric & acoustic guitars, oud, saz, bouzouki, chumbush, piano
Highlights
Yossi Sassi, Orphaned Land & LÂG Guitars… !

The LÂG Team spent a great time in the company Yossi Sassi, Orphaned Land's incredible guitarist, at Hellfest 2011!
Yossi plays several guitars from LÂG's Tramontane range, a handy, highly playable electro-acoustic T100ASCE-BLK "black beauty", a smooth Nylon 1TN300A14CE, and a superb, generous and dynamic Dreadnought T400DCE...!
For me, working with Yossi means much more than just "playing guitar": it's a pleasure for me to share a brief moment in the life of a man who works to bring people together through music and the joy of sharing, in a part of the world that on numerous counts is racked by incomprehension and scission.LÂG is honored to be a part of this – musically and humanistically – superb venture that can help bring together sometimes divergent sides…
Thank you, Yossi…
Michel LâG

Familiar to numerous music fans all over the world by his unique trademarked signature sound, Yossi Sassi blends East with West, Rock with World music, melodic tunes with progressive passages, and traditional folk instruments with roaring electric riffs. With over 20 years of experience as a Producer, Composer/Arranger and Founding member of "Orphaned Land" (Century Media USA/EMI), the worldwide pioneers of middle-eastern metal, Yossi Sassi, Orphaned Land's musical mastermind, continues to soar to new horizons.
Yossi is known for being the constant explorer of sound and musical boundaries, driving inspiration from different cultures around the world. Yossi plays 17(!) different types of guitars and traditional instruments, and has been invited to play live and share the stage with artists such as Metallica, Marty Friedman, Steven Wilson, Yehuda Poliker and many others.
Yossi Sassi has cooperated and recorded with artists from Kuwait to Portugal. He is a veteran performing artist, with hundreds of global shows and major festivals in his record. In 2010 alone, he performed ~100 shows in 30 countries, including U.S. and European tours, shows openings for Metallica, shows filmed for DVD (with Porcupine Tree's Steven Wilson) and more.
Every day, in every news program on this planet, the Middle-East conflict is a major topic and one of the reasons that the world we all live in is a world apart. Where politicians have failed, a mere musician daringly achieved with his group "Orphaned Land", the unthinkable and united Israeli and Arabian people despite any cultural, religious or political differences and conflicts!
"Orphaned Land" is probably the only band from Israel to ever build up a huge following among Muslims and Arabian people, as they communicate freely via the band's social networking pages.
Founded in 1991, "Orphaned Land" are the pioneers of a genre that grouped many followers. After their debut release "The Beloved's Cry" (1992), the band was signed at Holy Records and released the magical and highly-praised "Sahara" (1994) and "El Norra Alila" (1996) albums. Later on the band signed with Century Media USA and came back with an epic release, entitled "Mabool" (2004), soaring to over 250,000 copies in sales.
The band's 2010 release, entitled "The Never Ending Way Of ORwarriOR", got recommended by Kirk Hammett of METALLICA in "Metal Hammer" magazine.
Nowadays Yossi Sassi continues to move between Heavy-Rock to World/Folk music with sweeping guitar extravaganza, as he blends genius instrumental pieces with melodic vocal hits. Yossi succeeds in capturing the full scale of human emotions in his extraordinary debut release as a solo artist, titled "Melting Clocks", after a long-awaited anticipation from numerous fans worldwide!
Featuring world-known musicians such as Marty Friedman (Ex-Megadeth, 27 gold and platinum records, 5 Grammy nominations), this album takes you to a journey around the world with traditional instruments such as Saz, Bouzouki, Oud, Chumbush and many more!
The result is easily one of the most diverse and atmospheric debut albums the music world has ever seen, heard and felt.